Upcoming Events
This year the Hunter New England and South Western Sydney Munch & Move Healthy Eating & Active Play (HEAP) Conference is going online with guest speakers Catherine Hydon and Dr. Yeshe Colliver.
The conference will be conducted via Zoom on Wednesday the 24th of February 2021.
The main themes for this year will be:
Service Management
Having challenging conversations with families, and
Programming age-appropriate active play experiences
For more information and to register, click the link below.
Healthy Eating and Active Play Conferences - Munch & Move (nsw.gov.au)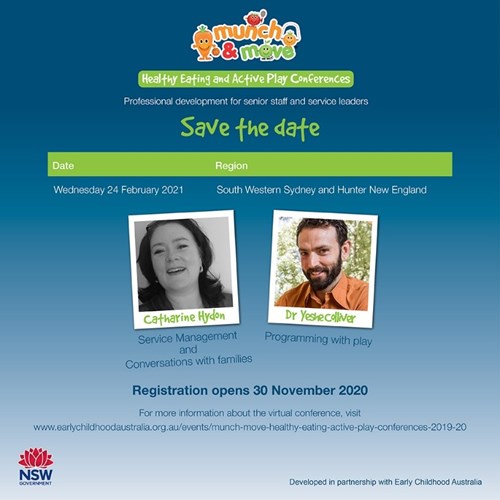 Munch & Move is running six free online webinar series' for Cooks and Directors / Nominated Supervisors / Educators in a leadership role, during February and March 2021.
Each live webinar series based on NSW Health's Caring for Children: Birth to 5 years (Food, Nutrition and Learning Experiences) manual, and will be conducted over two parts.
Topics covered will include:
Why healthy eating is important for children
The Australian Dietary Guidelines
The ECEC services requirements under the National Quality Framework
Planning menus
Modifying recipes 
Understanding food labels
Managing common challenges (e.g. cost, fussy eating, intolerances)
For more information, dates and to register, click here.