Healthy Eating 
Healthy eating is a great way to help maintain our physical and mental health and wellbeing. Making lunches with your child can help to teach them healthy eating habits.
Check out some great resources and ideas to include healthy eating in home learning activities.
SWAP IT is a new healthy lunchbox program developed by dietitians from the Good for Kids Team.
SWAP IT aims to support parents and carers to swap what is packed in the lunchbox from sometimes foods to everyday foods. 
Head to the SWAP IT pages for ideas, recipes and lesson plans. 

Nutrition Teaching Resources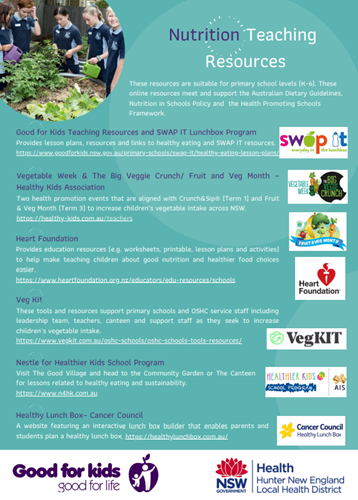 Shopping Tips 
The Dietitians Association has some handy tips on planning your pantry if you need to self-isolate, or are unable to get to the shops for a while. Check out the recipe links at the end of the article for some healthy meal inspiration.  
Eating on a Budget 
'No Money, No Time' lets you search by main ingredient or what equipment you've got. It also shows the cost per serve for each recipe.  
Recipes made for Kids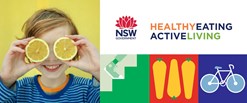 The Healthy Eating Active Living website has a healthy eating during COVID section and lots of family friendly recipes to choose from.
The Cancer Council Healthy Lunch Box builder website has loads of simple recipes and tips on creating a nutritious lunch.
The Raising Children website has advice on how to include your child or teenager in the kitchen. 
Try these great recipes by clicking the picture below. Simple and delicious, use up kitchen staples, add some vegies to your snack time and freeze leftovers for later.