TOP TIME-SAVING
TIPS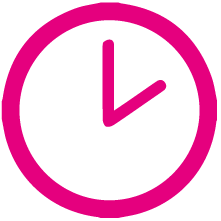 Keep a batch of fruit buns or pikelets portioned in the freezer (for up to 3 months). Whole sandwiches can be made ahead of time and frozen too. Use ingredients like cooked meat, cheese or mashed eggs then just put the frozen sandwich straight into the lunchbox.
Think whole baby carrots, baby cucumbers, cobs of cooked corn & child-sized whole fruit like pears, mandarins or bananas (just check they are appropriate for your child's age and not a choking risk).
Snack packs of tinned fruit and yoghurts are quick an easy. Use the Swap it Choices list to find healthier versions of pre-packaged snacks like pre-portioned rice wheels or rice crackers.


Chop extra vegetables while preparing the evening meal. Portion these into a zip lock bag or plastic containers ready for the lunchbox.
To save money, portion your own yoghurt, tinned fruit or crackers for the week in advance. Stock up on plastic snack containers next time they're on sale!