Embedding Aboriginal Perspectives
We are in the process of developing this resource page. If there are any resources you would like included on this page please let us know.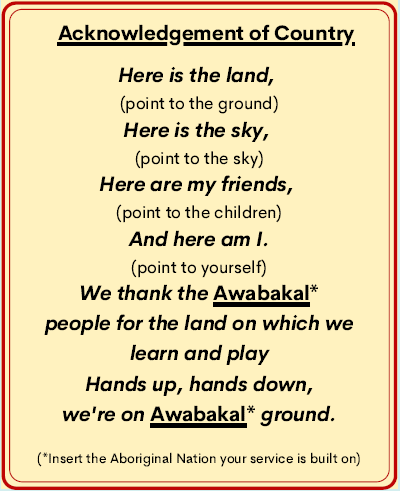 Using Aboriginal Perspectives in Music and Movement Activities
Music can be a fun avenue to bring cultural perspectives into ECEC curriculum, as well as promote physical activity.
Here are a few examples of songs that you can use and/or modify in your service.
It is best to work with local Aboriginal staff, organisations and/or community members to ensure local perspectives are respectfully included in these activities.
Use local language in songs that expect kids to move, like Heads, Knees and Toes
Sing every day pre-school songs in local language and incorporate physical actions. The following is sung in Gamilaraay language Twinkle, Twinkle Little Star and physical movement can be easily incorporated
Use songs made in language and add physical acidities. For example, the following song in Gamilaraay language, Burrulaa Balabalaa (Many Butterflies), can easily engage children in physical activities by getting them to act like the animals in the song
Please note the Heads, Knees and Toes song is from Indigenous ABC, and the language is not local to communities in Hunter New England. Twinkle, Twinkle Little Star and Burrulaa Balabalaa are from Speak Gamilaraay.