Wellbeing is all about balance!
Teacher Wellbeing
Make sure you are taking time to look after your own health. We have found a couple of resources to help you get started:
Headspace for educators provides free resources for teachers to support your mental health though mindfulness techniques.

Staying healthy while working from home
If you are working from home this term, check out this advice from the Heart Foundation and the Black Dog Institute for ideas on looking after your physical and mental health. For ideas on keeping active, look at the workouts for adults we have listed in the families section for inspiration to keep you moving at home!
Home learning ideas for your students
Brain Breaks
Make sure your students take regular brain breaks when learning from home. This helps them to stay focused and in a good mood! This learning from home wellbeing timetable has lots of great ideas for all ages.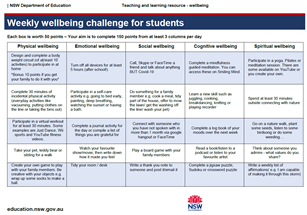 Mindfulness Activities
Mindfulness activities to help your students to focus on the present, can improve their confidence and their ability to regulate emotions.

Coronavirus (COVID-19) Information for Kids
For the most up to date information, visit the NSW Government Covid-19 Website and the Australia Department of Health Website.
ABC Coronacast
Several episodes dedicated to answering kids questions.